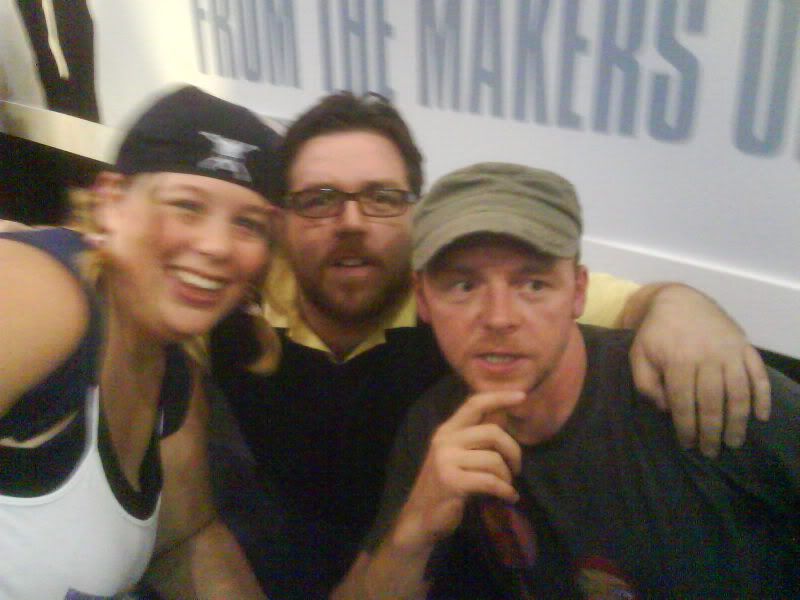 First off, the worst of 2007, in my esteemed but humbled opinion:
6. Because I Said So: Add one part Mandy Moore to one part Diane Keaton to one part Rom Com (Romance Comedy to you and me Yanks). An utter disaster, and if I have to hear the highly excitable Diane Keaton screech, cackle, and squeal in surprise or delight, it will be a day too soon. She should come with her own warning, a sign around her neck, if you will.
5. License to Wed:* Rom coms seem to be a running theme here. Anyhoo, Robin Williams just isn't funny anymore. Hasn't been in about 10 years, probably more. He really should be enjoying his retirement these days with Whoopi Goldberg and Billy Crystal.
4. In the Land of Women: Breakout film performance by The O.C.'s Adam Brody falls flat. It doesn't help that Meg Ryan plays the mom, but seriously, someone had a mother-daughter fantasy here. Nothing makes sense in this movie and should really have been left on the cutting room floor.
3. Norbit: Eddie Murphy plays 12 characters in this one (where have we seen that before??) that plays to a kids' audience. Or an idiotic one. Not even the lovely Thandie Newton can rescue this miserable car wreck.
2. Evan Almighty: Preachy Conservatives loved this one. Too bad nobody else did. With a budget that ballooned to $200 million and changing studios, this movie lost almost as much money as Enron. It's a damn good thing Jim Carrey didn't attach his name to this sinking ship.
1. I Now Pronounce You Chuck and Larry: Conversely, the worst movie of the year belongs to this machismo mockery of gay marriage. Now I'm all for un-PC, but this takes bad gay jokes to new depths. Kevin James and Adam Sandler, whom I normally revere as good comedians, should be ashamed of this preposterous rubbish.
And now *drum roll* the Best of 2007 in Film:
6. Sweeney Todd: Which I just saw last night. As my favorite musical ever, it has a lot of expectation to live up to. Having seen the original with George Hearn and Angela Lansbury in High School and been in love with it ever since, Tim Burton does a decent job in rendering the modern classic. Of course Tim "Burtonized" it, making it exceedingly dark, complete with cheesy CGI intro, typecast his real-life corpse bride Helena Bonham Carter as Mrs. Lovett and buddy Johnny Depp as the title character. Exceptional performances actually came from supporting characters Antony, Johanna, Toby, and Sacha Baron Cohen as Mr. Pirelli. As it was always been, Sweeney Todd is all about the music, however key parts were left out (such as the ending and overture in the beginning, Lucy was not as prominent). I was also curious to see how Depp would feign the accent - he did ok with his RP, but I'm glad he didn't pull a Dick Van Dyke trying on the Cockney. Carter walked through her performance but didn't thrill me as much as she had ought to.
5. Amazing Grace: Fantastic historic themes are exemplified here of Hanoverian times, especially that of revolution. Parallels to themes that are relevant today in the age of debt slavery, modern racism, and health care slavery. (See below.)
4. Knocked Up: A study in modern American (Southern Californian) youth and pop culture. Laugh out loud funny throughout, inevitably with heart and a human touch.
3. Superbad: Coming of age hilarity ensues. Feels like you're just kicking back with your friends, no pretention here with mostly unknown actors aside from Seth Rogan.
2. Sicko: Michael Moore does it again, bucking the system in a another controversial documentary. This one is not so much sticking it to conservatives, but a real eye-opener to the problems with health care in America and why it would benefit Americans to have universal health care like in European nations and why it needs to be revolutionized along with our corrupt government and corporations. A very important film, please tell 10 people to see this movie, then have them tell 10 people. And please, support John Edwards, he's the best candidate in order for this to happen. *off soapbox*
1.
Hot Fuzz
: Simon Pegg and Nick Frost kill in this follow-up to Shaun of the Dead. You really need to see it for yourself, words cannot describe how I ended up on the floor laughing to this movie. Above: picture of my interweb buddy
Kawaii
and Simon & Nick.
Happy 2008!
-----------------------------------
*I have not actually seen this film, but my wife has. All she could say was awful, awful, awful. The only movie in recent memory she's ordered on demand that was paid for but didn't watch all the way through.